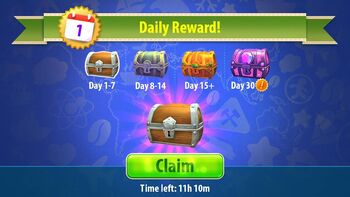 The treasure is a special item in Gummy Drop!. If you click the hidden treasure, just tap with red "X" marks the spot, only available in world cities. As of Sam's new look, treasure is now changed into the Daily Reward. For the Daily Reward, if you not claim in a single day, the treasure will be return to Day 1.
Prior to Version 3.0
When the treasure is open and it will cost:
Bronze treasure: 90 coins or Free
Silver treasure: 180 coins
Gold treasure: 350 coins
Rewards
Bronze treasure

2,500 (hats, bricks, or gems)
1 combo
10 coins
1 shovel

Silver treasure

5,000 - 40,000 (hats, bricks, or gems)
2 plasma strikes
6 shovels
2 more time

Gold treasure
Version 3.0 and beyond
Bronze treasure (Day 1 to 7)
Silver treasure (Day 8 to 14)
Gold treasure (Day 15 and beyond)
Premium purple treasure (Day 30, each 30 days)
Community content is available under
CC-BY-SA
unless otherwise noted.